About our Taos Inn
The 80 foot long Grand Portal stretches the expanse of the main entry and is an inviting place to sit and talk and enjoy the peaceful splendor of the Taos sunrise or sunset. The most evident of the historic 1830 'preserved architectural elements' is the low overhang entrance to the grand portal and the short door to the lobby.
The whispering of our stream (acequia) traversed by the old stone bridge is a delight. Away from the busy sounds of the town, the stillness enfolds the old adobe in Winter, while brilliant flowers and gentle breezes greet you in the Spring.
Against the wondrous backdrop of the ever-changing color on Taos Mountain, enjoy our orchard with fruit trees and wild asparagus while breathing the fresh, clean air with the faint bouquet of pine and sweet grass.
Settle down in our sun room in front of the wood burning stove, which overlooks the flagstone courtyard. Read or nap in a hammock under a 100 year old spruce tree for a moment or two, or find your own quiet spot to get away and slow down. We have lots of them.
After searching for a haven which embraced the beauty and magic of nature, we can share with you the Adobe and Pines Inn in Taos, a place we believe a wonderful discovery for your Taos romantic getaway.
As the fire leaps in the corner fireplace and shadows dance on the softly contoured adobe walls, it is more than the warmth of the fire that our guests feel. Laughter and happy voices fill the Inn. Surrounded by nature's beauty, there is a quality of relaxation and casual elegance.
I still stand in awe of this incredible 1832 adobe hacienda, the years of history its walls hold, and the reality that I am the next in a long line of loving caretakers.  If you have stayed here with us, you already know how magical it is here.  I am proudly carrying on a long tradition of warmly welcoming our amazing guests and providing a unique, restorative experience that captures the truly authentic expression of the Taos ethos and history.   
My vision for Adobe and Pines is to instill environmental and social responsibility into all aspects of the Inn. My life before Adobe & Pines, was that of a Landscape Architect / Environmental Steward with a passion for living lighter on this earth. I am deeply committed to green practices and sustainability in my own life and now, in the life of Adobe & Pines.  Some highlights of our efforts at Adobe & Pines:
Utilizing healthy, toxin free, locally sourced products and services

Use of organic and/or locally-grown food as much as reasonably possible

Energy efficient appliances (all Energy Star), lighting and other technology.

Expanding the sites native and edible gardens

Reducing our energy use and exploring alternative energy – we now have Electric Car Charges

Offering unique packages and workshops with local artisans and community partners
I hope you will join me in becoming a strong steward of this incredible adobe hacienda that deserves to be shared, loved and treasured for generations to come.
I look forward to meeting each and every one of you, along with many of your trusted 4-legged companions.  Till then stay well and enjoy life's adventures.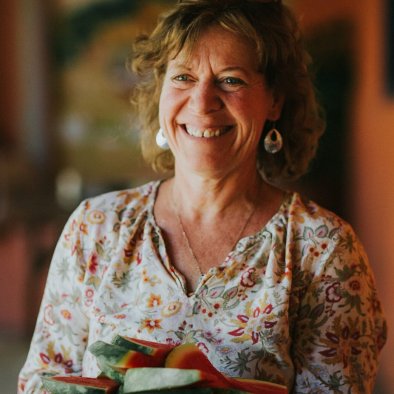 Christine Scypinski
B&B Owner and Innkeeper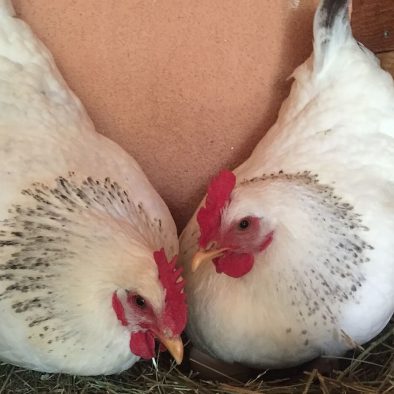 Maude and Mabel
Breakfast Deliverers
Maude and Mabel, along with their sisters happily deliver your breakfast daily. There's nothing better than farm fresh eggs in the morning to start your day.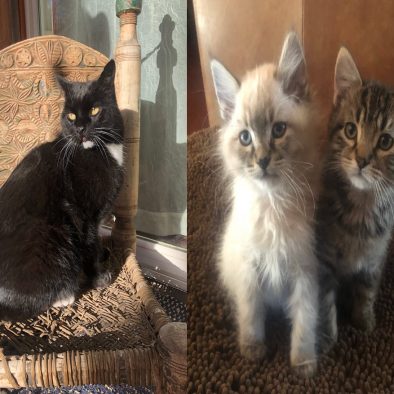 Nelson
The Boss
Nelson loves his Ella and his chickens!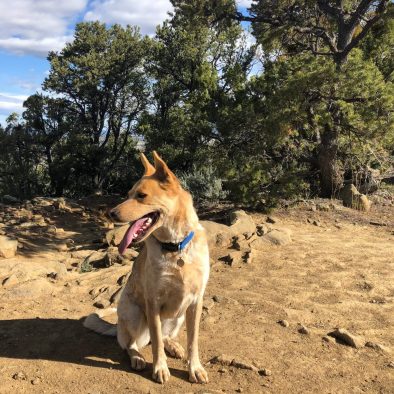 Ella
Adventure Guide
Ella loves welcoming the four legged travel companions to the Inn and sometimes will join them for a play date!