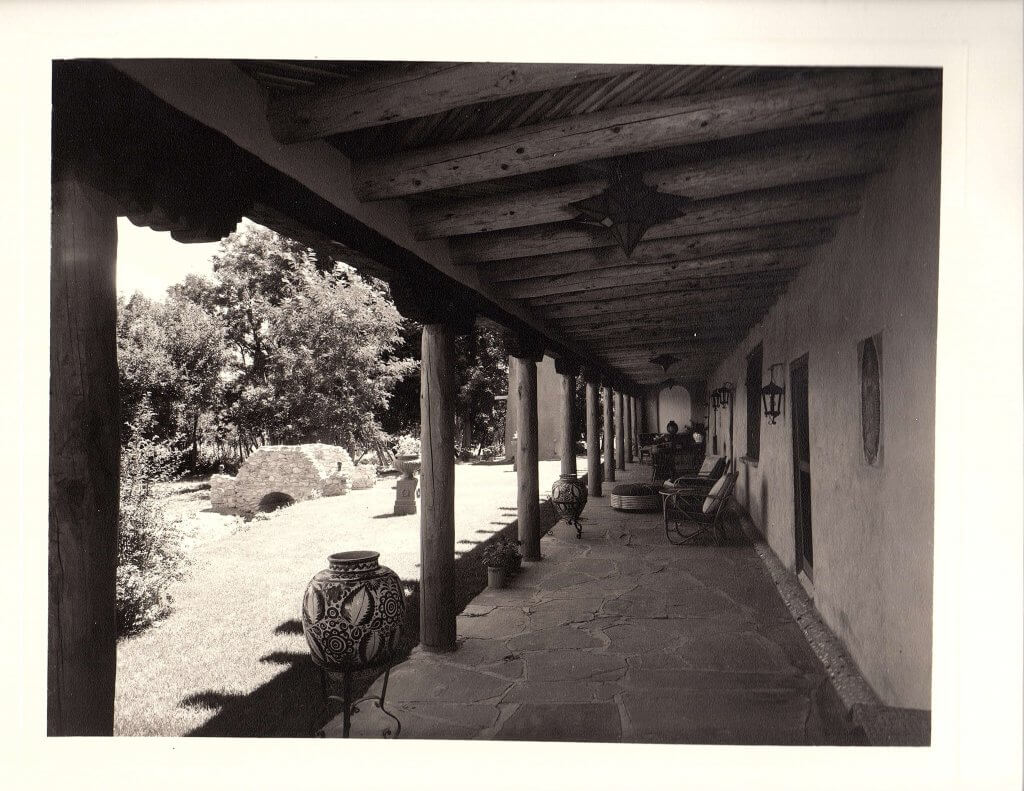 Adobe & Pines Inn in Taos, New Mexico, is centered around a preserved 1832 historic adobe hacienda.

Our Taos Inn is part of the Ranchos de Taos Plaza area, just four miles south of the center of Taos Plaza. There are six such plazas that make up "Taos"' a series of plazas that include Ranchos de Taos (just one-third mile from the Inn), La Loma, Talpa, Arroyo Seco and others — all just a few miles apart around which the Spanish built their original dwellings and established their communities.
The earliest history of the Adobe & Pines Inn is that it was part of the Taos Pueblo's (Tiwa's) sacred hot springs area, which is now known as Llano Quemado (dry plain), and still has Hot Springs Road as its primary street up behind the Inn.

After the Spanish arrived in the area, the property on which the Inn sits ultimately became part of the King of Spain's land grant to Soldier Cristobal Dela Serna who acquired his lands South of the (Taos) Pueblo on April 8, 1710, when it was granted to him by Governor Jose Chacon Villasenor. Governor Juan Ignacio Flores Mogollon revalidated the grant to Cristobal Dela Serna June 15, 1715 for the soldier Serna had been unable to take formal possession and reside on the land as required because of Military Service. August 5, 1724, Juan and Sebastian Dela Serna, sons of Cristobal Dela Serna, sold the land to Diego Romero.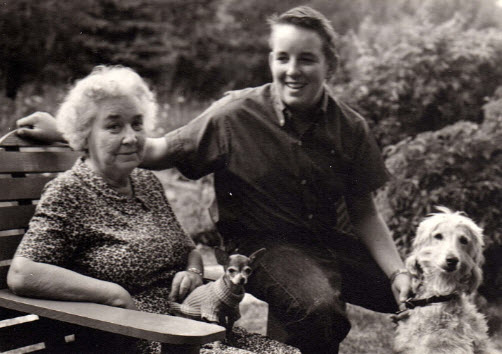 Acting Governor Juan Paez Hurtado revalidated the grant to Diego Romero, November 24, 1724. Diego Romero had resided in the area for sometime prior. In August 20, 1714 Diego Romero had registered a Livestock brand, while a resident of San Geronimo de Taos. He described himself as "A Coyote."
Noted New Mexico Historian Myra Ellen Jenkins says that when Fray Miguel De Menchero made his report of his 1744 Visitation of Missions, he spoke of only (4) four ranches in the Taos Valley, with ten (10) Spanish Families, most of whom were obviously The Romeros. Other than the San Geronimo De Taos Pueblo, the only inhabited site in the valley appears to have been the settlements of the Diego Romero's Clan on the Rio Dela Trampas (Rio Chiquito), which today is the Adobe & Pines Inn / Ranchos de Taos area.
Many Spanish as well as French explorers, trappers, artisans, farmers, and ranchers settled the Ranchos de Taos area and their descendants are still here today.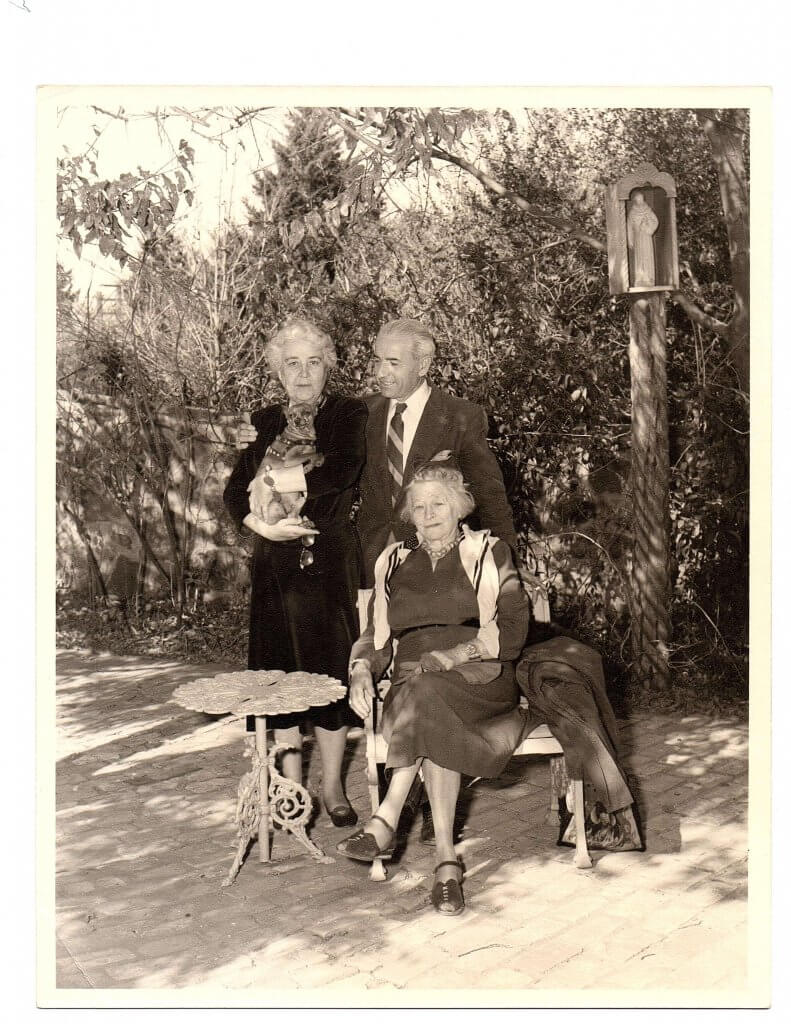 In the late 1930s, Mrs. Herbert Syney Griffin, commonly known as 'Johnie', from Wichita Falls, Texas, owned and lived in the hacienda and transformed it into one of Taos' cultural salons for the gathering of artists such as Frieda Lawrence, Dorothy Brett, Gisella Loefler, Andrew Dasburg, Mable Dodge Lujan, Alexandra Fechin, John Young Hunter, Joseph Fleck and other area notables.
Mrs. Griffin is the patrona who financially made it possible for the Mystery Painting to come to the United States from Europe and find a permanent home at the St. Francis of Assisi Church in Ranchos de Taos Plaza, just one-third mile north of the Inn. The back of the historic church is the famous adobe facade many times painted by O'Keefe and memorialized by Ansel Adams and other artists through the decades.
Adobe & Pines has been an Inn in Taos now since 1991, and sits on just over three acres, offering guests eight suites – five of them part of the original hacienda and its adobe additions. From the earliest period of the Inn, there is a hidden underground rock-lined tunnel from a root cellar (now wine cellar) to the well-house. Our historic Taos Inn also retains many old, lovely wall tiles. Some are obviously religious tiles of saints, but others are tile "half shells" that were to let visitors know, not so subtlely, that the owners had been on a prestigious official Catholic pilgrimage – perhaps the El Camino or to Jerusalem.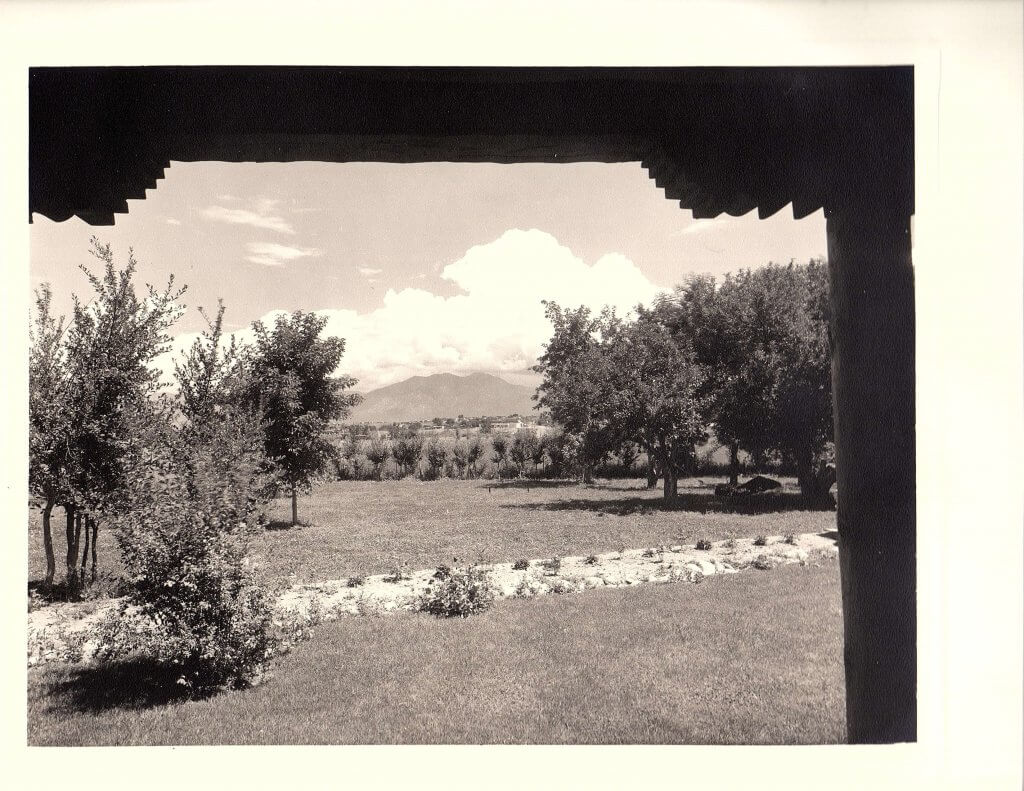 In addition, the Adobe & Pines property, which has water rights running with the land, has its own acequia, visually transformed on the property into a lovely stream, that is part of the ancient Spanish irrigation system throughout New Mexico that continues to thrive today, and a well-appointed two-seater adobe outhouse.
The Inn's Grand Portal has a wall fresco, sponsored by Mrs. Griffin, by noted Taos Pueblo artist Juan (Jo Wo) Mirabal. During 2003 Juan Mirabal, and the Inn's fresco, were featured as part of the University of New Mexico.
Harwood Museum's retrospective on Taos Pueblo painters. , an excerpt from David Witt's article about these artists is noted below.
Adobe & Pines Inn Taos NM is now adding to its history as a luxurious historic Inn, and we are happy to share its current charm and previous stories with guests and new visitors.
"JUAN MIRABAL (1903-1970) remains the least known of the three artists. It is not certain whether he worked as a model for any of the Taos Society of Artist members or if he ever attended the Santa Fe Indian School. In the late 1940s, he studied for a time with the Taos modernist painter Louis Ribak who ran an art school for a few years after World War II. During that period, the Taos Valley News ran a photograph of Mirabal with some other students. This was unusual for, unlike Martinez and Lujan, he seems to have pursued his career in a less public way. There is no mention of him painting on the plaza in the Village nor did he open a shop there.
Visitors from outside the Pueblo did, however, come to see him and some of them at least must have purchased his paintings. He differed from the other two painters in this exhibition in several respects. The most surprising thing he did was to depict ceremonial dances at the Pueblo. Before this time, no Taos Pueblo artist created such realistic pictures for a non-tribal audience. These paintings are highly evocative of the power and beauty represented by the dances. They are also interesting for their modernist flavor. From the 1930s, Mirabal's work shows a decidedly Cubist influence which was probably unique among Southwest Indian painters of the time.
He most likely learned about modernist painting from Marjorie Eaten, a painter of his own age who lived in Taos in the late 1920s and early 1930s. In addition to being well educated in European Modernism, Eaton was enamored of Mirabal. She later became an assistant to Diego Rivera from whom she learned the art of true fresco, painting with dissolved pigment on wet plaster. She may have taught Mirabal the technique because in 1950 he painted a large mural on the portal of a residence in Ranchos de Taos, now the Adobe & Pines Inn Bed & Breakfast. In whatever medium, it is Mirabal's inherent design and color sense that make his paintings come alive."